Top Tips To Bring Back The Fashionista Glam For Moms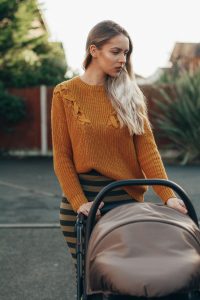 Being a mother is the most difficult job in this world. Every one of us loves our moms, but sometimes we feel sad when we see they lose their glam. They have swimming lessons to drive their kids to, lunch or dinner to prepare, Legos to avoid stepping on and all the unexplained things stuck on their shirts. Being a mother comes with daunting challenges that they don't even have time to think on what to wear. The yoga/leggings-wearing-mom has become a stereotype. However, being a busy mother does not mean trading convenience for style.
Here are a few tips for all the mothers out there to bring back their glam.
Little Black Blazers
The great thing about blazers that a lot of people don't know is that it is so versatile. We have put an emphasis on this just because you can use it on a casual Friday or a lavish dinner date at a fancy restaurant. So if you don't have a black blazer in your closet, rush to a nearby mall or look for one at online shops such as Bonprix. Bonprix's great deals and offers are significantly cheaper compared to those blazers found in shopping centers.
Open Cardigans
In today's fashion world, open cardigans have become the new jacket or sweater. Using oversized cardigan compliments skinny jeans and boosts the look to a more fashionable level. On the other hand, cropped cardigans placed over an untucked button-down will give you a more casual girly look. If you are not into knitted or woven cardigans, Newchic provides cardigan alternatives that will fit your fashion style. Avail of the discount coupons and all offers of Newchic so you can get a hand of their unique open cardigans that is cozy and stylish, a perfect match for your outfits.
Use Accessories
Do you feel that your outfit is plain? Then take out those jewelries outside of the box and put them to good use. Use your treasures and check which matches your outfit or what makes you look glam. If you're not into jewelries, a scarf with a great print will do the trick. You can wrap the scarf on you neck or just tie it to your bag to add extra fashion points.
Layers
Using layered outfits is an exemplary way to be glamorous, comfy and warm, all these while flattering your sexy curves. You will also never worry about bulkiness, layering tops and leggings anymore! Layers are perfect for daily wear, and having classic colors with stylish prints can emphasize any woman's fashion sense and shape. If you are a single mom going on a date, use layers so you won't be worrying about how you look on your intimate encounter. Still looking for someone special? Spice up your life with Lexa dating app!
Good Hair
Everyone knows the hackneyed phrase that "the hair is a woman's crowning glory" because it really makes sense. Busy moms often resort to messy buns to cover up their lack of time to fix themselves but to be honest, you should still invest time for yourself and go to a salon to get your hair treatment. Cut whatever needs to be cut, get a hair rebond to revive your look and have that extra youthful glam as you used to have.



You can follow any responses to this entry through the RSS 2.0 feed. Both comments and pings are currently closed.