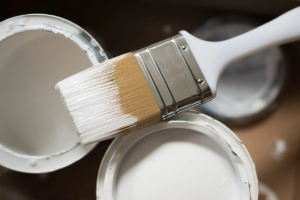 Whether you're planning to have a full-scale renovation or a minor remodeling project, changing or upgrading a property doesn't always have to mean high expenditure. With some preparation, research, and elbow grease, you can turn your vision from a mere dream into a reality without spending more than you can or need. And this is especially important to those who are working with limited finances. And to make sure that your home improvement project creates immediate appeal on a budget, here are a few tips to keep in mind.
Get the paint out
Colour plays a critical role in the overall look and appeal of a home. And whether you prefer the subtle and subdued approach of neutral tones or more striking wild themes, paint is one of the quickest and most inexpensive ways to create appeal. Not only are the materials and equipment relatively cheap. But it doesn't necessarily require professional services because it's a do-it-yourself job. So, don't underestimate a nice fresh coat of paint. It can make a difference without putting a sizeable dent in your bank.
Make use of green technology
Appeal isn't just about looks. It's also about functional upgrades that improve the quality of life. And one of the best ways to go about this is by adopting green technology. From switching out your existing lighting systems to utilising solar panels, making your home energy-efficient will not only lower your monthly utilities significantly. But it'll also make it more attractive to prospective buyers.
Go for bespoke furniture
If you want to make your home unique and stand out among the rest, you may want to go for bespoke furniture. From bespoke wardrobes to vanity units and storage desks, custom-made items will not only help you add a personal touch to your house. But the versatility in their design means that you won't have to worry about getting them to fit in an area, especially smaller spaces.
Incorporate flora into the home
These days, you'll be hard-pressed to find a home that doesn't make use of indoor flora as accent pieces. And for a good reason: not only can they elevate the look and atmosphere of a house. But some plants have air-purifying qualities to ensure that the air you breathe remains free of any harmful toxins and bacteria.
Give the home a good clean
It may sound rudimentary, but cleaning your home can go a long way in making it look good. Not only will clearing up the clutter and organising your living area make it look more presentable. But it can make the living space look much larger than it is and save you money on increasing its square footage.
Home improvement doesn't always have to be a costly endeavour. In actuality, it can be quite affordable. And with all the above-mentioned tips, you'll be able to transform your home at a price that you'll be more than happy to pay.